What is the key to providing high-quality patient care? The truth is there are many answers to this question, but one of the most important keys is efficient healthcare staff allocation. When you have strategically allocated your doctors, nurses, and other staff, you're able to ensure the right people with the right skills are in the right place at the right time.
Proper healthcare staff allocation allows healthcare teams to collaborate smoothly, adjust to fluctuations in patient volumes, and deliver excellent care. With this in mind, below we'll explore best practices for optimizing healthcare staff allocation through data-driven approaches, flexible scheduling, leveraging technology, and fostering teamwork. If prioritizing efficient healthcare staff allocation sounds good to you, keep reading.
The Importance of Efficient Staff Allocation
The act of improved healthcare staff allocation will yield improved staff satisfaction and reduced burnout through optimal workloads and collaboration. There are several reasons you need to make healthcare staff allocation a top priority. One of which is ensuring the right staffing levels and skill sets are available to handle patient volumes and acuity in each department. Put another way, proper resource allocation in healthcare avoids understaffing or overstaffing.
Efficient staff allocation also allows staff to work more efficiently together through things like aligning schedules and availability. Overall, it reduces delays, errors, frustration, etc… You'll optimize labor costs by reducing over-reliance on overtime or temporary staff too.
Furthermore, your healthcare organization will experience cost savings from reduced overtime and temp staff allow resources to be invested in care quality as well. Finally, you'll enjoy smooth operations and workflow to provide timely, quality care.
Impact on Patient Outcomes and Performance
Not only will your staff be happier, your patients will enjoy many benefits as well. For example, with the right staffing, patients can be seen faster. Ask anyone and they will tell you that reducing wait times and delays in care is a good thing.
Another benefit that patients will enjoy is that care will be provided by staff with the proper skills and experience levels, increasing quality of care. Efficient handoffs and transitions between departments/staff due to alignment of schedules means there will be higher patient satisfaction from reduced wait times, smooth care coordination and personalized care.
Understanding the Challenges in Staff Allocation
The truth is, deciding to improve your healthcare staff allocation isn't something that will happen overnight. With that said, here's a quick overview of common challenges faced by healthcare facilities in allocating staff:
Fluctuating patient volumes make it hard to plan optimal staff levels
Complex scheduling of doctors and nurses with different specialties/skills
Coordinating staff across multiple departments and facilities
Incorporating schedules of part-time or contract staff
Actively managing your roster health to make sure you have a number of credentialed providers to make sure you have enough coverage.
What are some factors influencing staff allocation decisions?
There are many factors to consider that can influence resource allocation in healthcare. For example, patient volumes and acuity levels. You'll also need to consider your staff's skills, credentials, and availability. Next, it's important to consider regulatory requirements around staffing ratios. Finally, we'd be remiss if we didn't mention budget constraints that healthcare organizations just like yours may be facing. Then again, not examining these factors can end up costing you even more in the long run.
Just one of the consequences of poor staff allocation on patient care and staff morale is that patient care suffers from long wait times, delays, and errors. You'll also notice low staff morale, fatigue, and burnout from overwork or redundancy. If that wasn't enough to make you want to rethink your resource allocation, poor allocation can also lead to poor clinical outcomes and patient satisfaction scores, increased costs from over-reliance on overtime or temporary staff, and frustration and miscommunication due to ineffective teamwork.
What are the Best Practices for Healthcare Staff Allocation?
1. Utilize data-driven approaches to determine staffing needs
What does this look like in practice though? You can start by analyzing historical data on patient volumes and acuity levels by day, time and department. Be sure to factor in staffing ratios required for licensing and regulations. While you're at it, you should also use analytics to predict and plan for staffing needs. A workforce solution like Kimedics can help simplify this for you.

2. Implement flexible collaborative scheduling to accommodate fluctuations in patient volume
This can look like building in buffers to accommodate fluctuations in volumes, enabling staff to see open shifts and adjust schedules dynamically, and collaborating across departments to share staff as needed.
3. Make sure the right staff with the right skills are in the right place at the right time
In practice this will mean matching staff skills/experience to anticipated patient needs, scheduling experienced staff during peak periods, planning staff rotations to cover different departments, and establishing efficient handoff protocols for shift changes.
It's also important to make sure you have enough people on your roster with skills, credentials, and privileges to be able to flex up or react when emergencies happen such as sick leave, patient volume increases or decreases, etc…
Leveraging Technology for Smarter Healthcare Staff Allocation
There have been vast improvements in technology that make resource allocation in healthcare much easier on healthcare organizations. For example, modern workforce management software and tools such as Kimedics can provide:
A centralized platform to manage staff scheduling and coordination
Tools to forecast staffing needs based on analytics
Mobile apps that allow staff to easily manage schedules, and
Integrations with payroll, HR systems, and temp staffing agencies.
How can technology streamline staff allocation processes and optimize efficiency?
Just a few of the ways technology removes the bottlenecks in resource allocation in healthcare include, but aren't limited to:
Providing real-time visibility into staff availability and credentials
Automating schedule creation and optimization
Simplifying shift swapping and picking up open shifts
Using analytics to identify high-need periods to inform staff planning
Enabling seamless collaboration across departments and facilities
Tracking privileges, expirations and credentials to make sure your roster has providers ready to go, and
Leveraging mobile access to empower staff to manage schedules dynamically.
Communication and Collaboration in Staff Allocation
Clear communication is critical among healthcare teams because it ensures awareness of patient volumes, staff needs. It also allows teams to proactively identify staffing gaps and adjust. When everyone is on the same page, communication also helps to reduce confusion, delays, frustration from siloed planning.
How can collaboration between departments lead to better staff allocation decisions?
Here are just a few of the ways:
Sharing staffing needs and challenges openly between departments creates a more holistic understanding of workload across the organization. This allows for more strategic allocation of shared resources.


Joint input into staffing decisions brings multiple perspectives. Department managers can provide insights on their unique workflows, while senior leadership can take a balanced approach. It's a good idea to seek medical leadership input as well.


Cross credentialing and cross-training and floating staff between departments creates more flexibility to move personnel where needed. Nurses trained across specialties can fill gaps dynamically.


Proactively identifying surplus staff capacity in one department allows them to be allocated to assist other departments with shortages. This prevents siloed staff huddling in one area while another is understaffed.


Smoother handoffs when transferring patients between departments. Aligned schedules ensure both sides are properly staffed for intake.


Special events requiring extra staff can be coordinated at the organization level. For example, a flu clinic requiring additional triage nurses can be planned in collaboration with outpatient departments.
The key is breaking down silos. Collaboration enables better anticipation of organization-wide needs and more agile movement of resources. This ultimately leads to staff being allocated more optimally based on the big picture.
Here are a few tips for fostering a culture of teamwork in staff allocation processes:
Create centralized scheduling with transparency
Encourage open discussions on challenges and ideas
Reward cross-departmental collaboration and site level and central office collaboration
Foster relationships between staff across units
Enable staff input in staffing decisions.
Addressing Staffing Challenges in Specialized Areas

Specialized areas sometimes face additional staffing challenges. For example, here are some of the challenges specific to departments like Emergency, ICU, and Operating Rooms:
ED and ICU have highly variable patient volumes and acuity
ORs require specialized nurses and techs for different procedures, and
Specialists like surgeons only work certain days/times.
How can you maintain quality care in specialized areas?
The answer comes in tailored approaches such as dynamic schedules and on-call staff to handle ED/ICU fluctuations, and coordinating across ORs to share specialized staff as needed. You can also consider optimizing schedules for specialists while ensuring coverage, using float pools of cross-trained nurses who can work across units, and leveraging data-driven forecasting utilizing historical surgical volumes. Finally, you can implement collaborative staffing across facilities to fill gaps as they come up.
Kimedics - the Healthcare Staff Allocation Solution You Deserve
Kimedics is an ideal solution for healthcare organizations looking to optimize their staff allocation and scheduling to improve patient care.
As a workforce management platform built specifically for healthcare, Kimedics provides powerful and flexible tools to align staffing with patient needs.
Kimedics enables data-driven staff planning using historical data analytics and forecasting of patient volumes and acuity levels across departments. This allows hospitals to accurately predict staffing requirements.
The platform also facilitates collaborative cross-departmental scheduling and staff sharing. Open shifts can be visible to all staff to pick up, supporting dynamic allocation. Kimedics simplifies shift swapping between departments, optimal usage of float pools, and efficient handoffs.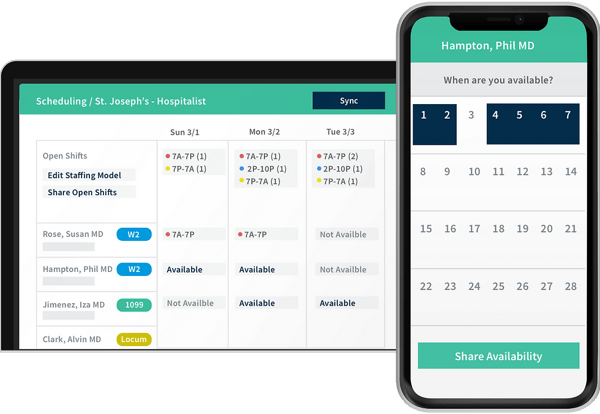 Robust reporting and analytics in Kimedics provide real-time insight into staff availability, credentials, and schedules across the organization. This level of visibility ensures the right staff with the right skills are allocated to the right place at the right time.
By streamlining scheduling, collaboration, and data-driven optimization of staff levels, Kimedics helps healthcare facilities provide timely, high-quality care resulting in better patient outcomes. It also improves staff satisfaction through optimal workload management.
An additional benefit of Kimedics is its flexible permission functionality that allows granular access controls across complex healthcare organizations. Whether you're managing a large multi-site system or a single hospital with various departments, Kimedics makes it easy to configure appropriate user permissions at the system, regional, site, department, and individual levels. This ensures workforce members only interact with relevant information per their role and location, while still enabling broader collaboration. With robust and customizable permission controls, Kimedics enables centralized oversight alongside efficient localized management tailored to each organization's structure and needs.

To learn more about how Kimedics can transform staff allocation at your healthcare organization, book a personalized demo today. Our workforce experts can map Kimedics' capabilities to your specific allocation needs and challenges.