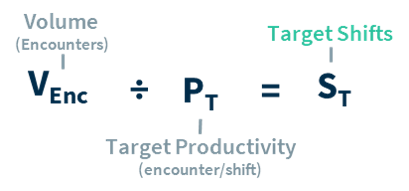 In our last article, we covered the financial impact of premium labor rates on practices. Another extremely important driver for scheduling operations is productivity or staffing to volume.
Here are some ways you can use Kimedics to better deploy your teams:
1. Volume Tracking
In Kimedics, teams can add their volume forecast by day or month to better anticipate practice needs. This is especially helpful for organizations with multiple locations/units who need to effectively manage teams across locations. During set up, users can also define the ideal productivity for a given shift so we can easily identify days over/under staffed. Use our reporting to automatically suggest deployment opportunities of teams from overstaffed locations to understaffed using maps and reporting.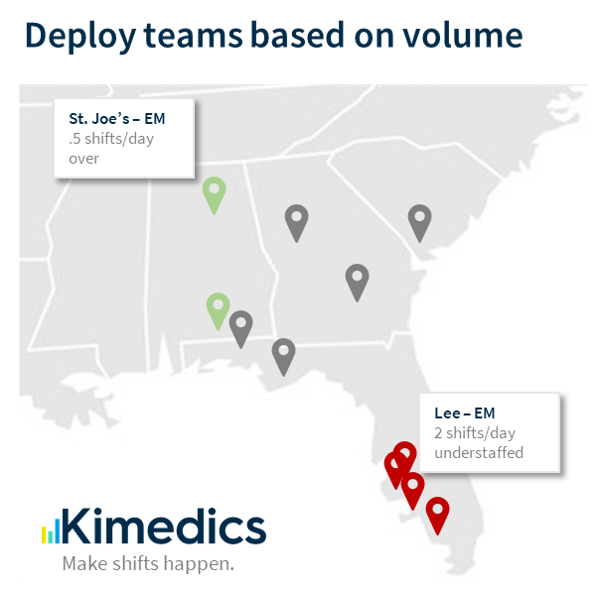 2. Jeopardy Shifts
In most locations, there are a minimum number of shifts that must be scheduled on a unit. Beyond that you can set up jeopardy shifts, that pay a fixed call amount for the possibility of getting called in and then can be set up as variable shift lengths (8, 10, 12 hours). Without technology pay and determining call in is difficult but we make this easy in Kimedics.
3. Float Pools
We often find groups are not optimizing on their internal provider network. Most groups have W2 part timers and contractors in the phone of the medical director but not in one place to request picking up extra shifts across your system/network of other locations. Building up a float pool is crucial for a flexible organization and engaging/sharing opportunities is also important. With the Kimedics mobile app simple texts and ability to share/claim open shifts can keep your teams engaged.
4. Financial Health Tracking
With volume estimates in our system as well as cost data driven by the schedule, we can give an instant forecast of the financial health of a single practice or an organization as a whole.